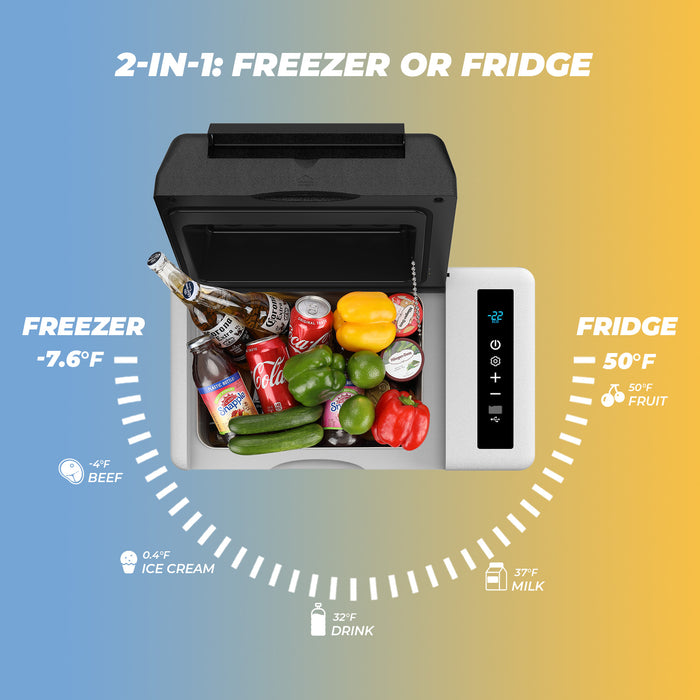 Double Leaves Portable Freezer Car Refrigerator 24 Quart 12V Car Freezer Travel Fridge 23L (-7.6℉~50℉) with 12/24V DC and 110-240 AC, Compressor Refrigerator for Truck, RV, Boat and Camping
【15 Mins Fast cooling&Energy Saving】2 in 1-a car refrigerator and freezer.No ice needed, range from -7.6℉ to 50℉ with ECO/MAX modes selection. Only needs 15 mins from 77℉ to 32℉.Portable freezer refrigerator is 45W rated power in MAX mode, which means 1 kWh can be used for 22 hours. You can store fresh food and other cold items – like cheese, drinks, vegetables, dairy.
【24 Quart Capacity with Unique Design】Compared with other refrigerators, the 12 volt refrigerator for vehicles can hold a 1.5-liter water bottle vertically because of the unique door design.The storage compartment and measuring rule on the refrigerator lid can store small items conveniently.Internal dimensions:13.96*9.87*10.66 inches.External dimensions:22.4*12.6*14.37 inches.Storage box size:10.26*1.48*2.16 inches.
【45dB Low Noise&Safe Driving】With 45dB low noise when 12V portable refrigerator for car is running, you can get a cozy sleep after long-distance tiring driving and stays focus on the road.Car fridge freezer is perfect for truck drivers, RVs, campsites, boats, camping, fishing, road trips.
【3 Level Battery Protection&4wd Driving Adventure】With H/M/L level battery protection function, it does not affect the normal start of the car. Work with tilts of 30 ° without worrying about bumpy roads. Shockproof design is Ideal for semi-truck, Van, RV, and your 4wd vehicle off-road.
【LED Diaplay&Multi Use】The portable refrigerator has the digital thermostat control, accurately mastered every 1 °C. Built-in LED light, more convenient to take things. DC power cord and AC power cord included making it can be used wherever you are.