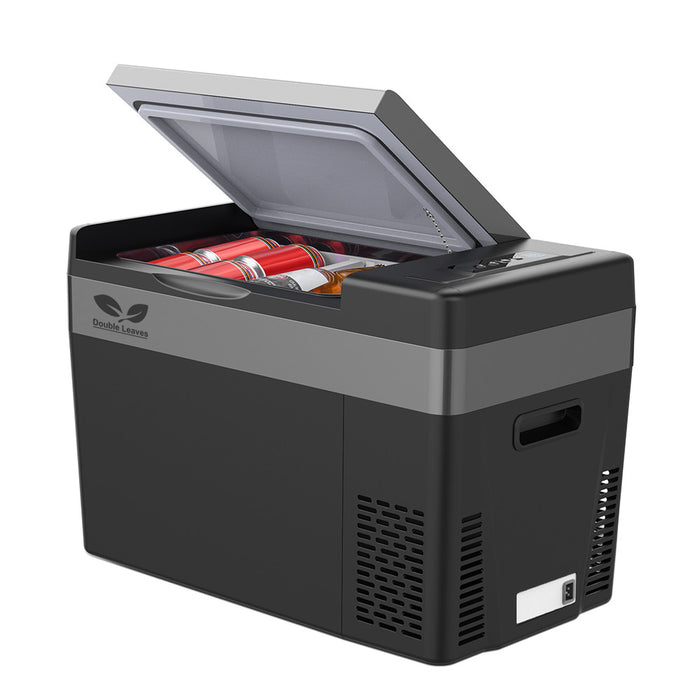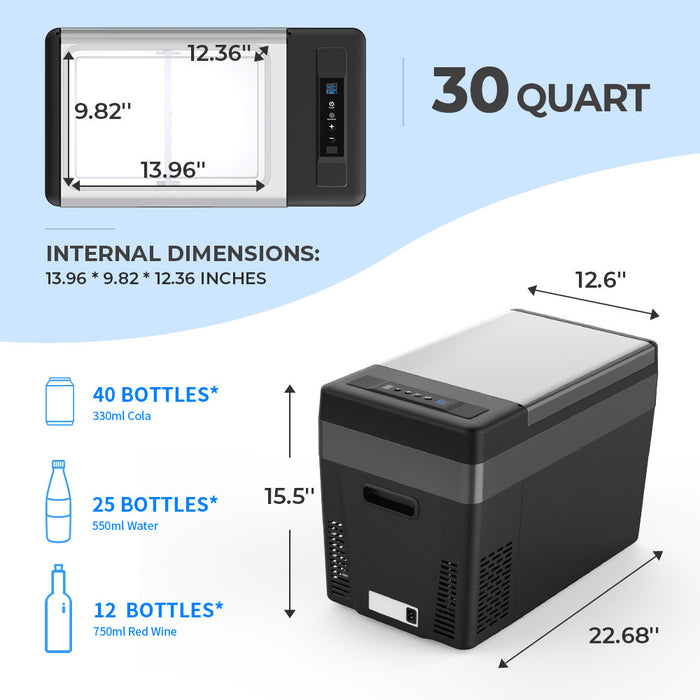 Double Leaves 12V Car Refrigerator Portable Freezer 30 Quart(28L), Portable Refrigerator Fridge(-7.6℉~50℉) with 12/24V DC and 110-240 AC, Travel Refrigerator for Vehicles, Car, Truck, RV, and Camping
【15 Mins Fast Cooling Without Buying Ice】: No need to buy ice, you can adjust the portable refrigerator from-7.6℉ to 50℉. Only needs 15 mins from 77℉ to 32℉, it can be used as a refrigerator(above 32℉) or a freezer(-7.6℉). Without spending on buying ice, portable fridge for car is a good choice for you to store ice cream, frozen meat, cheese, drinks, etc.

【Consumes 1KWH Per Day】: The 12v fridge has different modes for options including Max (fast cooling) and Eco (Energy Saving). The rated power is 45W, which means travel refrigerator consumes less than 1KWH every day. You can plug in overnight without worrying about it will drain the car battery.

【H, M, L -3 Level Battery Protection】: The 12v camping refrigerator has different levels for battery protection: Low, Mid and High, which prevents the battery from draining and reopen automatically when the voltage is restored.

【30 Quart Capacity with Unique Design】:Capacity:30 Quarts(28L ); External Dimensions: 22.68 *12.60 *15.51 inches;Internal Dimensions:13.96 *9.82 *12.36 inches.The partition can divide the internal space into two areas. With an LCD display and accurate temperature control system, 12-volt portable refrigerator meets your need to keep your drinks and food fresh.

【Dual-Use】: Run on 12/24V DC and 110-240 AC, the 12v fridge freezer could be connected to the car cigarette lighter, household power supply, portable power station, and solar panel.Portable compressor fridge is perfect for RVs, campsites, boats, camping, fishing, road trips, and outdoor activities.